September 9, 2020
Dear Members and Partners,
The coronavirus pandemic has completely changed the state of the global economy and of trade between Canada and the world. The ICCC is here to help you get through this difficult period, by supporting you and your international business strategies.
---
ITALY
ARTIFICIAL INTELIGENCE
Turin becomes the Headquarters of the Italian Institute of Artificial Intelligence
As more and more sectors of the economy resume operations in Quebec, the unemployment rate fell 1.2 percentage points to 9.5% in July. The empThe Turin has been chosen by the government as the seat of the Italian Institute of Artificial Intelligence (I3A) and will thus benefit from 600 new jobs and a budget of 80 million euros per year. This decision recognizes the city's involvement in the field and brings together the excellence that already exists in the Piedmont capital. The objective of the I3A is to create a research and technology center capable of attracting talent from the international market and becoming a point of reference for the development of AI in Italy. Read more, here.
---
WINE
2020 Harvest: Italy Maintains its Record
According to initial estimates carried out by Assoenologi, Ismea and the Italian Wine Union, COVID-19 will not affect Italy's position as the world's leading wine producer. The 2020 harvest should reach 47.2 million hectoliters, a minimal decrease of 1% compared to the 47.5 from last year. Italy maintains its lead in wine production against other European nations followed by France with an expected 43.4 million hectoliters and Spain with 43 million hectoliters. These first estimates also underline the excellent quality of this next vintage. To learn more, click here.
---
FINANCIAL TECHNOLOGY
Satispay Ranked Among the Best 250 Fintech Companies in the World
Satispay is named among this year's "Fintech 250" from CB Insights, a prestigious list which brings together the world's fastest growing fintech companies. Satispay, which is an application that allows users to make instant payments via their smartphone has seen record results during the first seven months of 2020 with 13.2 million transactions, up 51.7% from last year, for a total value of 254.3 million euros (+ 47.4%). Learn more, here.
---
TOURISM
#EViaggioItaliano: Discovering Italian Excellences in a Sustainable Way
During the pandemic, the promotion of Italian territories and regions has taken place in different ways in 2020. #EViaggioItaliano is an innovative tour presenting regional initiatives designed to revive national tourism which showcase the incredible nature, culture, wine, gastronomy and technology from different Italian territories. The project involves a fleet of electric vehicles which will travel around the country showcasing the wonders of Italy through social media. The project also features a unique prototype of a mobile kitchen powered by solar panels designed and manufactured in Italy, the kitchen will be used famous local chefs during a segment called "ShowCooking". After a first stopover in Campania last week, the visit will continue in Emilia-Romagna, Lombardy, Lazio and Trentino-Alto Adige and in other Italian regions in 2021. Read more here.
---
CANADA
FOREIGN INVESTMENT
Foreign Direct Investment: Montréal Earns a Top Spot
Greater Montréal has just been honoured by fDi Magazine (Financial Times) by claiming first place in the foreign direct investment (FDI) strategy category of the Tier 2 Cities of the Future 2020/2021 global ranking. Across all categories in the ranking, Montréal earned second place, after San Francisco. Montréal stood out in the Economic Potential category as well as in the Human Capital and Lifestyle category, where it ranked second, after Adelaide, Australia. Learn more here.
---
ECONOMY
Quebec's Economy is Restarting
Quebec's economy rebounded (+ 10.4%) twice as strong as that of Canada (+ 4.5%) in May, according to the Institute of Statistics. The recovery of the Quebec economy in May was led by the construction industry and the wholesale and retail trade, which were able to resume their activities with some restrictions. The hotel and restaurant sector experienced a significant recovery in May, but remains the hardest hit by the crisis. Learn more here.
---
EVENT
SOUPER GOURMAND ITALIEN CHEZ SOI
Don't miss our next evening with Chef Pasquale Vari
On September 14th the famous Chef Pasquale Vari will be live from the kitchens of the Institut de tourisme et d'hôtellerie du Québec (ITHQ). The featured region for the evening will be beautiful Emilia-Romagna. Travel with us to discover its territory, its gastronomy and its incredible wines!
For more information, go HERE.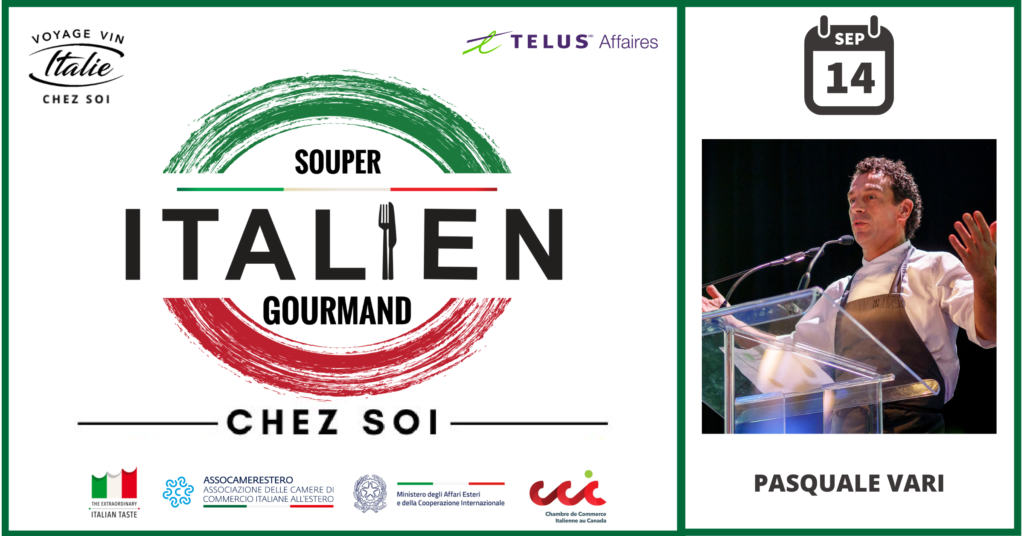 ---
Our team remains dedicated to answer all your questions and to assist you.
We invite you to visit our website and social media platforms frequently for the latest updates.
Thank you for your continued trust and stay safe.
The ICCC Team