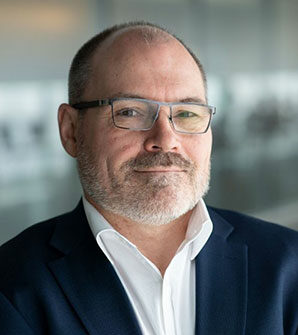 Daniel Couillard – Canadian Center for Cybersecurity
Director General of Partnerships and Risk Mitigation

/

Canadian Center for Cybersecurity

Daniel Couillard is the Director General of Partnerships and Risk Mitigation at the Canadian Centre for Cyber Security (Cyber Centre). The objective of the Partnerships and Risk Mitigation directorate is to increase the cyber resilience of Canada, in collaboration with partners. As such the directorate is responsible for advancing the Cyber Centre's strategic partnerships with governments, critical infrastructure owners and stakeholders, private sector and academia. To that aim, his directorate provides cyber security advice and guidance as well as architectural assessments in key technology areas. It also implements the Cyber Resilience Program and leads the cyber supply chain integrity program in support to the Government of Canada IT procurements.

Daniel was previously Director General of Program Evolution at the Cyber Centre. He was responsible for leading strategic business change and enabling agile decision-making in the context of the complex and dynamic cyber security ecosystem. This ensures CSE meets future cyber security demands from governments, operators of systems of importance and Canadians at large.

Prior to his current role, Daniel was the Director of Cyber Futures, where he was responsible for setting the strategic direction of where the Cyber Centre needs to be in order to remain the centre of Canada's cyber security expertise.

Daniel previously worked as a military officer with the Canadian Armed Forces, where he held appointments in the operational and technological domains, including overseas deployments. After spending 20 years with the military, he joined CSE's Cyber Defence team in 2006 to oversee the management of its Technical Threat and Analysis capability.

In 2011, he joined the Treasury Board of Canada Secretariat where he led the newly formed Government of Canada Chief Information Officer Branch Cyber Security team, where he worked until he returned to CSE in 2017.

He holds a bachelor's degree in Engineering from the Royal Military College of Canada and a Master's in Science from the Université du Québec à Montréal.