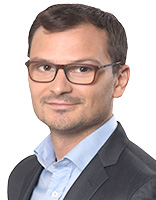 Thomas Martinuzzo
Senior Investment Advisor – Innovation

/

Fonds de solidarité FTQ

Thomas Martinuzzo joined the Fonds de Solidarité FTQ in September 2016 as Senior Investment Advisor – Innovation. Thomas has worked in the field of innovation since 2006. He held several positions at Gestion Univalor, s.e.c, where he notably led the team of professionals who commercialize physical sciences and engineering inventions from Université de Montréal, Polytechnique Montréal, HEC Montréal and affiliated hospital research centres. Mr. Martinuzzo also founded eValorix.com, a web platform that commercializes digital tools arising out of public research.

He also served on the board of directors of several start-up companies (Bâton Simulations inc. and Ortho Regenerative Technologies inc.) and is currently a director of Castor Optics Inc.