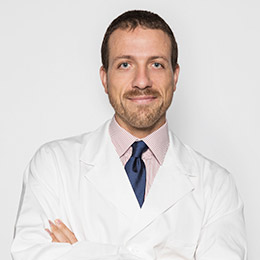 Luca Maria Sconfienza – Head of Diagnostic and Interventional Radiology, IRCCS Galeazzi
Head of Diagnostic and Interventional Radiology

/

IRCCS Istituto Ortopedico Galeazzi

Luca Maria Sconfienza MD PhD is full professor of Radiology at University of Milano and Chair of Diagnostic and Interventional Radiology Unit of IRCCS Istituto Ortopedico Galeazzi in Milano, Italy. His main clinical and research activity are all aspects of musculoskeletal radiology, in particular diagnostic and interventional ultrasound and applications of artificial intelligence in this field. He is author of 263 publications indexed on Scopus, with 3,782 citations and H-index=30.

He has been councilor (2009-2011), chair of Research Committee (2013-2016), chair of the Ultrasound Subcommittee (2016-2018) of the European Society of Musculoskeletal Radiology, where he is now the Secretary General up to June 2021. He is member of the Public Information Committee and Public Information Advisor Network (2017-2023) of the Radiological Society of North America (RSNA), where he is also member of the Scientific Committee of the Annual Meeting up to 2022.