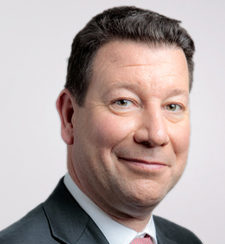 Hubert Bolduc – President, Investissement Québec International
/
Hubert Bolduc was appointed Senior Vice-President, Foreign Direct Investment and Exports, and President of Investissement Québec International in September 2019.
After working as a senior civil servant for nearly two years and as a director with Investissement Québec from 2014 to 2015, he was named President and CEO of Montréal International in 2016.
Mr. Bolduc's previous posts included those of Vice-President, Communications and Public Affairs, at Cascades from 2004 to 2012, Advisor to the Québec Premier from 2001 to 2003, and consultant with the NATIONAL public relations agency from 1998 to 2000.
Mr. Bolduc holds a bachelor's degree in political science from Université du Québec à Montréal, a master's degree in communication from the University of Stirling in Scotland, and an MBA from HEC Montréal. He has served as Chairman of the boards of directors of Manufacturiers et exportateurs du Québec and Jour de la Terre Québec and sat on the boards of the Chamber of Commerce of Metropolitan Montreal, the Montreal Council on Foreign Relations, Fondation de l'UQAM and Forces Avenir.