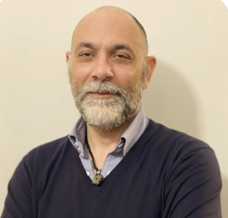 Gaetano Volpe – Latitudo 40
CEO

/

Latitudo 40

Gaetano Volpe, with more than 20 years of experience in Space and Telecommunications, is a business coach with extensive experience in strategy development, business model design and business planning applied in coaching activities for companies, startups and SMEs. He has consolidated experience in business development, technological innovation/R&D and designing growth strategies in international markets. Currently Founder & CEO of Latitudo 40, startup in the downstream EO sector, and Founder & CFO of Esferatros, Luxembourg-based startup focused on a new satellite carrier for small sats.

Gaetano is constantly focused on supporting companies and organizations in their digital transformation, putting data-driven insights at the heart of every decision for the development and validation of innovative business models, using structured methodologies based on Lean Organization and Design Thinking concepts, to transform visions and innovative ideas into business successes, through simulations and field validation (validated learning). Highly diversified professional experience, consistently characterised by achieving results through teamwork and strong personal commitment with a proven track record of defining and developing complex projects, driving execution and change management to deliver results. For Gaetano, space is not just a job, but a passion that he has cultivated since he was a child and dreamed of becoming an astronaut.