Souper Gourmand Italien chez soi (VIDEO)
Participate in our 3rd Souper Gourmand italien Chez Soi, an initiative of Wine and Travel Italy at Home! Chef Giovanni Baldolini from Restaurant Fiorellino will be on hand to prepare delicious recipes made from authentic Italian ingredients!  
Chef Giovanni Baldolini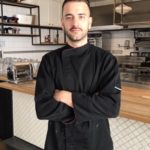 Giovanni Baldolini was born in Rome in 1993. He developed a great passion for cooking during his youth, under the influence of his grandmothers and his uncle who also owned a restaurant. As a graduated from one of the best Italian hotel schools in Spoleto, the Istituto alberghiero de Carolis, he completed various internships in Emilia-Romagna, Umbria, Lazio, Sardinia, Calabria and Sicily. He then worked in some of the best hotels and restaurants in the capital, and in 2018 he decided to leave for Montreal to discover local flavors, where he became the chef at Restaurant Fiorellino, in Outremont.
Two experts in wine

Guénaël Revel, Master of Ceremonies
To enhance our
Souper Gourmand Chez Soi
, our master of ceremonies Guénaël Revel, or "Monsieur Bulles", author of several books on wine, will transport you through the viticultural history of Tuscany through the discovery of 2 wines from the region :
Castello di Volpaia Chianti Classico 2017 DOCG

et

Brancaia Chianti Classico DOCG.
A word from Valentino Tesi, Italy's best sommelier 2019

We will also have the honour to hear a few words from Valentino Tesi, renowned sommelier and an expert in Chianti Classico wines for which he has the title of the First Master of Chianti Classico 2019.
Valentino Tesi is a professor sommelier at the Italian Sommeliers Association. He is the recipient of numerous awards: Winner of the Best Sommelier trophy at Vermentino 2017, Best Sommelier in Tuscany 2019, First Master of Chianti Classico 2019 and Best Sommelier in Italy in office.
Tonnarelli Cacio e Pepe
650 g whole flour

350 g semolina

60 g of grated Pecorino Toscano DOP

Black peppercorns
Mix the flour and semolina, pour them on a work surface and add 160 ml of water. Knead the dough for 5 minutes, make a small ball, wrap it in plastic wrap and let it rest in the fridge for 20 minutes. Then spread the dough before inserting it into the pasta machine.
Grill the black peppercorns in a pan and then grind them by hand in a mortar. Put water to boil in a saucepan and salt. In a bowl, mix the grated Pecorino with a little cooking water be sure to mix well to remove all the lumps.
Drain the pasta al dente and finish cooking in the pan, adding the Pecorino sauce and a little more cooking water if necessary. Add the ground pepper and serve on a plate with a little grated Pecorino and pepper.
__
Saltimbocca
1

150 g of veal

30 g Prosciutto Toscano crudo DOP (2 slices)

4 sage leaves

50 ml white wine

25 g butter

20 g flour

Extra virgin olive oil

Black pepper
Lightly pound the veal slices until thin, then place the sage on top followed by Prosciutto and keep everything together with a toothpick. Put the flour in a plate and use it to coat the slices of veal. In a frying pan with oil, fry the slices starting from the side with the Prosciutto until both sides are golden. Finally, glaze with the white wine, and add the knob of butter, reduce and serve.
__
Focaccia di Finocchiona
400g pizza dough

70g Finocchiona Toscana IGP (6 slices)

Pecorino Toscano DOP flakes

Mozzarella

Arugula

Balsamic vinegar reduction
Make the pizza dough and let stand for 2 hours, then spread on an oiled baking sheet and let rise for 30 minutes. Bake at 400 ° F for 8 minutes. Take out and add the chopped mozzarella and the Pecorino flakes and return to the oven until cooked. Take out and add the Finocchiona Toscana IGP along with the arugula leaves, the flaked Pecorino and a few drops of balsamic vinegar reduction.
__
Authentic products
Do you want to cook along with Chef Giovanni Baldolini? You can get the following authentic products from Fruiterie Milano to prepare the dishes: Pecorino Toscano DOP, Prosciutto Toscano DOP, Finocchiona IGP and Frantoio Malavalle Olio extravergine di oliva Toscano IGP.
---
Discover the Italian Region of Tuscany
Filippo Magnani, one of the most renowned wine tourism experts, will intervene to present you incredible tourist packages to Tuscany. They are available on Wine and Travel Italy. Anticipate the reopening of borders by preparing now for your next stay in Tuscany!
.
---

Win a dinner for two valued at $100 at our partner restaurant Fiorellino. The perfect opportunity to taste authentic Italian dishes, cooked by chef Giovanni!
➡️ Make one of the recipes presented by chef Giovanni during our
Souper Gourmand Chez Soi
taking place on July 7th
➡️ Comment on
this post on our Facebook page
with the photo of your creation and tag the person you want to bring with you to Fiorellino.
➡️ Share this contest with your friends!
➡️ Like the
Italian Chamber of Commerce in Canada
on Facebook.
You have until Tuesday July 14th at 6 p.m. to participate!
A draw will take place among the participants and the winner will be announced the following day here on our Facebook page..
Good luck !
---
Our events




Souper gourmand italien chez soi
Did you miss our first Souper gourmand italien chez soi?
No problem! Click here to watch chef Graziella Battista of Restaurant Graziella preparing her delicious Crostata di Riso, asparagus e guanciale.
---
[gravityform id="29″ title="true" description="true"]