PREMIO VENEZIA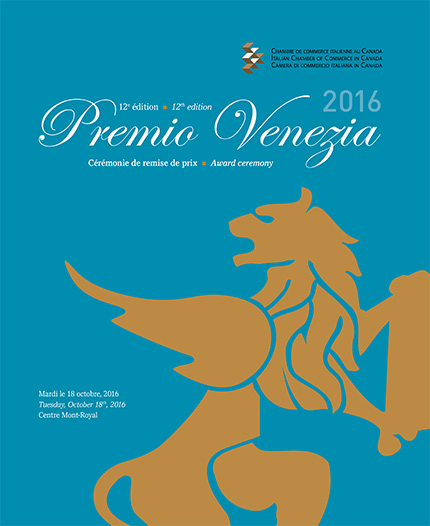 The PREMIO VENEZIA is the Academy Awards of prizes (highest recognition) bestowed by the Italian Chamber of Commerce every year to outstanding Canadian businesses, people and institutions that maintain or develop working or business relations with Italy.
A jury of local executives selects the winning entries among numerous nominees in different categories. Winners are selected based on their outstanding business performance, technological advancements or cultural achievements. They are all involved in Canada-Italy relations and very often they are Canadian companies or institutions that find a competitive advantage in including an Italian design, product or technology in their business processes.
Congratulations to the 2016 PREMIO VENEZIA recipients!
YOUNG ENTREPRENEUR :

Michel Favuzzi from Favuzzi

MADE IN ITALY :

Fruiterie Milano

INDUSTRIAL :

Les Aliments O'Sole Mio Inc.

QUÉBEC-ITALY COLLABORATION :

Milan Design

ACADEMIC COLLABORATION :

International Summer School of the Université de Montréal and the Università degli Studi di Milano

SCIENTIFIC COLLABORATION :

Institute for Data Valorization – IVADO and Professor Andrea Lodi

GRAND AMBASSADOR :

Luigi Liberatore