AEP Ticketing Solutions
Mobility
AEP Ticketing Solutions has been designing and manufacturing electronic ticketing systems and equipment for public transport for over twenty years.
For more than twenty years AEP equipment has been present on buses, in subways, in stations and on trains. The first one was designed in 1993 and over the years they have become a very large team, which includes validators, on-board computers, multi-function units, ticket vending machines and much more.
To enter in the application software industry, in 2012 AEP has created ET, The Easy Ticketing, that is probably today one of the best suites of applications for Electronic Ticketing and one of the references of international competitors.
In 2016 with the acquisition of "Monetica" business unit from Leonardo, AEP becomes able to provide an immense wealth of application solutions. Software covers all areas of ticketing, from the most traditional to the most innovative, such as e-Commerce, Account Based Ticketing and EMV bank cards and much more.
The Electronic Ticketing System is in continuous evolution and requires efficient, flexible and responsive support services in order to be implemented and remain in operation.  AEP offers consulting during purchase, project management, installation, training, support, repairs and spare parts.
The best experts, the best designers and the best engineers work in AEP, engaged in R&D activities, with full possession of technologies, deep knowledge of international standards and very high-quality level.
Technology/Product
The offer of AEP is complete and includes software, equipment and all necessary services. The technology was developed in the Design Center of AEP.
The AEP software offers all the most innovative functions that the market requires today: Account Based Ticketing, e-Commerce, Apps, web portals, EMV bank cards and much more. The AEP software is based on technical solutions that represent today the state of the art in Electronic Ticketing and makes a wide use of standardized components with lower costs, less maintenance, and greater stability. It's designed for the world and can be configured in any language.
The Electronic Ticketing Equipment has different products such as validators, onboard computers, driver consoles, vending machines etc. and each of them must be able to be configured in the most different ways. AEP proposition is one of the widest on the market, with tens of different products in thousands of variants, all available from a single supplier.
AEP is working to overcome the model of "proprietary system" and to propose a Ticketing As A Service (TAAS), configuring "in cloud" a virtual e-Ticketing System for each client LPT Company. This will allow each company to operate exactly as if it had a proprietary system, against a fee commensurate with the chosen configuration, instead of committing to a heavy investment from the economic point of view and the necessary skills.
Value proposition
The company is able to provide complete systems, without having to depend on third party suppliers. An excellent System Integrator must necessarily depend on market conditions and the possible variability of its subcontractors. AEP is able to guarantee everything, software and hardware, today and for ten years from the moment of supply (in some cases twenty years). The advantages of a supplier like AEP are really important and qualify its offer in a very different way.
AEP is able to provide an immense wealth of electronic ticketing solutions: not only to realize large systems, those that manage millions and millions of daily transactions, but also those for medium and small Companies that can thus access, at reasonable costs, to a universe of deep and consolidated knowledge and experience, where AEP software and AEP equipment merge and integrate to constitute the ideal solution for every public transport requirement.
AEP aims to be recognized by its customers in addition to suppliers also as one the most reliable, competent and cooperative partner. AEP is today one of the best-known Italian companies in its business sector worldwide. Tens of systems and 65.000 AEP devices are used in Italy, Europe and many other countries, managing millions of transactions every day.
Representatives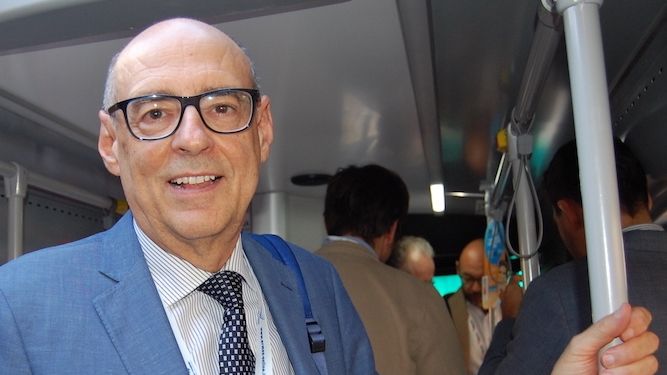 Giovanni Becattini
CEO AEP Ticketing Solutions
Gallery