Artificial intelligence (AI) technologies will shape a better future for all Canadians by creating good jobs and new sources of economic growth to make our economies more competitive, inclusive and sustainable. That is why the Government of Canada is supporting six highly innovative businesses from Greater Montréal.
Today, the Honourable Navdeep Bains, Minister of Innovation, Science and Economic Development and Minister responsible for Canada Economic Development for Quebec Regions, announced investments of nearly $6.3 million to support six AI businesses in their efforts to scale up and expand into new markets.
Of this amount, a $5 million repayable contribution will be provided to Element AI Inc., a world leader in artificial intelligence that provides software products to help businesses be stronger, safer and more agile. This financial assistance will enable Element AI to continue deploying its operations abroad, increase its participation in trade shows, hire artificial intelligence specialists, and purchase computer equipment. It is anticipated this will create approximately 900 new jobs.
In addition, nearly $1.3 million is being provided to support the continued growth of five other innovative artificial intelligence companies in the Greater Montreal area: Imagia, Keatext Inc., ARA Robotic Inc., C2RO Cloud Robotics Inc. and Roof Ai. Combined, these investments are expected to create 77 jobs.
The Government of Canada is committed to supporting Canada's high growth-potential businesses to innovate, to increase their productivity and competitiveness, and to access new markets, thereby contributing to the economic growth of regions, job creation and a better quality of life for Canadians.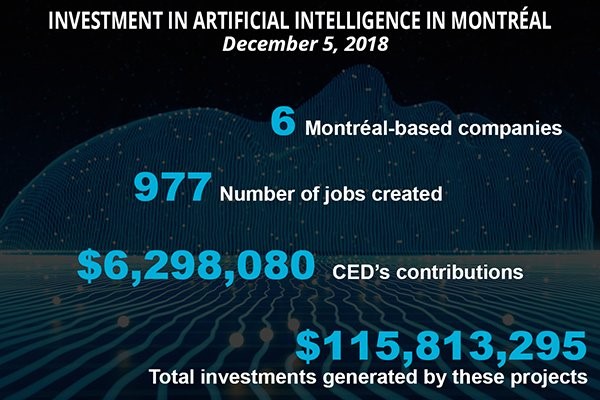 Quotes
"Artificial intelligence is transforming all industries and sectors, opening up more opportunities for Canadians. It's exciting to see the vitality and creativity of these six Greater Montréal companies that, each in its own way, are helping to strengthen Canada's role as a global leader in innovation and creating highly specialized jobs that play an essential role in the growth of Canada's digital economy."
The Honourable Navdeep Bains, Minister of Innovation Science and Economic Development and Minister responsible for CED
"This investment from the Quebec Economic Development Program demonstrates yet again Canada's commendable leadership in AI, which has permitted Canadian companies like Element AI to shine. This investment will help accelerate the company's global expansion, create jobs, and expand our innovation infrastructure."
Anne Martel, Senior Vice President of Operations and Co-founder, Element AI
"With the support of CED, we are fortunate to be moving into the AI city of Montréal. This will continue to foster our relationships with AI institutes, such as Mila and IVADO, and strengthen a healthcare AI ecosystem that includes other key institutes like Vector & AMII. The support provided will accelerate innovative discoveries for pharmaceutical, medical devices and diagnostic companies to make personalized medicine accessible for all patients."
Shelley Epstein, Vice President, Corporate and Public Affairs, Imagia
"Building a business is an ongoing challenge. It's a journey that starts with finding the solution to a problem in the market and then coming up with ways of exposing that solution to clients. Along the way, it involves obtaining all the help you can in order to get there. Organizations like CED are valuable resources that make that journey shorter."
Narjès Boufaden, President and CEO, Keatext
"CED's support is enabling us to go ahead with our marketing projects in Canada and the United States. With CED's assistance, we were able to support our growth and position ourselves in new markets outside Quebec. "
Pascal Chiva-Bernard, President and CEO, ARA Robotics
"C2RO's growth strategy is ambitious: we are commercializing our real-time machine intelligence solution globally to enhance the quality of everyday experiences with artificial intelligence. CED's financial assistance will help boost our ability to penetrate global markets and extend the reach of C2RO's game changing Engage platform."
Riccardo Badalone, CEO, C2RO Cloud Robotics
"The Quebec Economic Development Program helped us penetrate the U.S. market faster and fuel our growth. Using the funding provided by the program, we were able to secure some of the biggest real estate companies in the United States."
Pierre Sabbagh, President, Roof Ai
Quick facts
Canada

 is a world leader in AI, and fostering 

Canada's

 advantage in digital technologies is one of the pillars of the government's economic growth strategy.
The Government of 

Canada

 is committed to growing AI clusters, through new investments and scaling up homegrown firms. This will ensure that AI technologies are adopted across industries to increase innovation, productivity, and competitiveness.
The SCALE AI Supercluster, spanning the 

Quebec

-Waterloo corridor, brings together the retail, manufacturing, transportation, infrastructure, and information and communications technology sectors.
Montréal will be hosting the World Summit AI Americas in 

April 2019

.
The Innovation Superclusters Initiative, with a budget of 

$950 million

, was announced in 

February 2018

 by Minister Bains.
For more information on CED and its priorities, consult the 2018-2019 Departmental Plan or visit www.dec-ced.gc.ca.
For 50 years now, the Government of 

Canada

 has been actively involved in regional economic development in 

Quebec

: half a century of concrete action dedicated to the development of the regions and local businesses.
Source : CNW Telbec