The Italian Chamber of Commerce in Canada is pleased to announce that Ms. Jennifer Vincent has joined its team as Director, Events and Communications.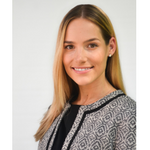 Ms. Vincent will be responsible for developing the ICCC's membership and partnerships, by offering events and activities that meet the expectations and requirements of our members and partners, and even surpass them in order to maintain their loyalty to the ICCC.
Ms. Vincent is a marketing and business development specialist, with experience in several industries and a very entrepreneurial approach.
You will have the opportunity to meet her at the ICCC's upcoming events.
Un caloroso benvenuto!