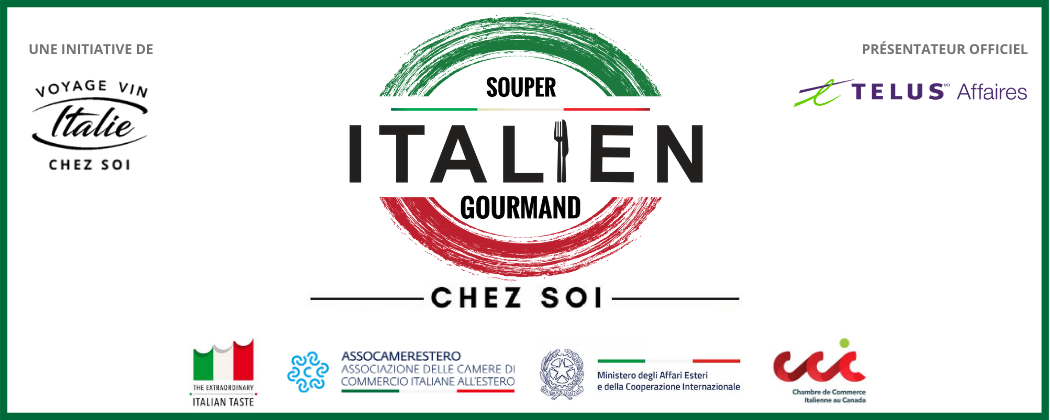 As part of its Wine and Travel @ Home initiative, the ICCC is organizing culinary webinars titled "Souper gourmand italien chez soi" during which renowned chefs will present delicious authentic Italian dishes which can be found in some of Montreal's best Italian restaurants.
These events are part of the "True Italian Taste" campaign which aims to raise awareness, educate and familiarize North American consumers on the origins of 100% Made in Italy products, and to demonstrate how to appreciate Italy's food specialties.
Each "Souper gourmand italien chez soi" webinar will honour one or more regions of Italy including its authentic food products, its wine specialties and the wonders of its territory. The webinar is aimed at ICCC members, clients and partners, but also to Canadian consumers more broadly, these webinars take viewers on a culinary journey, allowing them to discover Italy from the comfort of their homes.
The "Souper gourmand italien chez soi" is presented virtually and will be filmed live from the chefs' personal kitchens or their restaurants. The webinar will be broadcasted simultaneously on streaming platforms and on social media.
---
Our previous « Souper gourmand italien chez soi » webinars:
Did you miss our previous Souper gourmand italien chez soi webinars? Don't worry click the links below to see what you missed!
Find the video of the evening with chef Giovanni Baldolini and the master of ceremonies Guénaël Revel on our Facebook page here.
Watch chef Graziella Battista from Restaurant Graziella prepare her delicious Crostada di riso, asparagi e guanicale recipe here