Gnocchi al Pecorino Crotonese DOP
Ingredients

Gnocchi
* 125gr of Italian burrata 
* 1 egg yolk
* 100gr of Caputo flour
  
***

Arugula sauce
* 30gr of arugula
* 1 large potato 
* 50 gr of Pecorino Crotonese DOP
 
***

Pecorino Crotonese DOP mixture
* 150 gr liquid cream
* 1 glass of hot water
* 10gr of Pecorino Crotonese DOP

…………………………………………………………………………………………………………………………………………………………………………………………………………………………………

Preparation

Mix everything together to form the dough.
Make small balls with the dough. 

***

Poach the potato for 22 mins
In a mixer add 6 ice cubes, the potato, the arugula, the Pecorino Crotonese DOP, and salt and pepper. 
(the dough must be cold so that the arugula doesn't change colour) 
Mix.

***

Mix everything with an arm dough mixer.
 
Cook the gnocchis: Soak for 2 mins in boiling water. 
 
In a pan, add a little sage, Pecorino Crotonese DOP, butter, Lametia  DOP olive oil, and the gnocchi cooking water, and cook for 1 min.
 
Serve. 
---
---
L'Aragosta in crosta di 'Nduja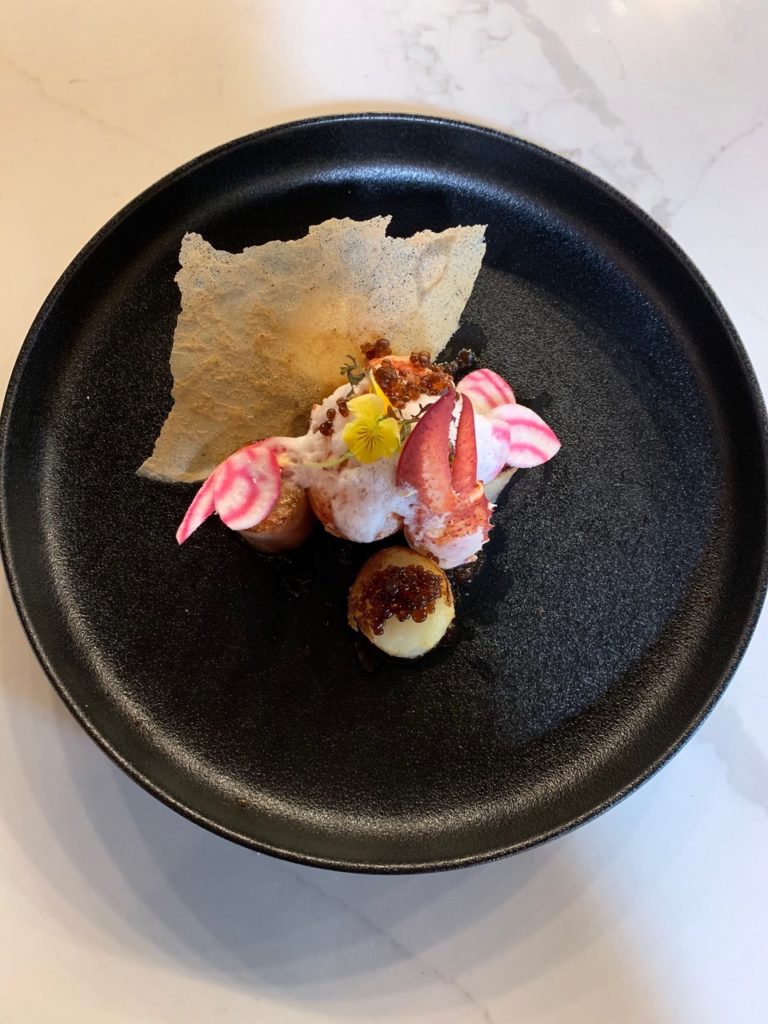 Ingredients

* 1 whole lobster
* 2 chioga beets
* 2 potatoes
* 2 table spoons of maple syrup
* salt and pepper
* thyme
* 2.5 gr of butter and 2.5 gr of Lametia DOP olive oil
* 0.5L oyster water

For the dough
* 2 egg yolks
* 2gr of ginger
* 5gr fraiche seaweed
* 1gr of salt
* 20gr of 'Nduja
* 20gr black charcoal
*350 gr white flour

…………………………………………………….

Preparation

Cook the potatoes for 12 mins in 0.5L of water and 0.5L of oyster water
Cook the beets for 10 mins in 1 L of water and 2 table spoons of maple syrup
 
(a cutting mold will be used by the chef for the potatoes)
 
Wash the seaweed and poach it in boiling water for 10 mins
Take it out and put it on ice to cool it
Wring them out and put them in a mixer until you get a creamy mixture
 
Mix the dough with the 'Nduja, the seaweed and the ginger. Put it to the side.
 
Shell the lobster. 
Leave in it a saucepan with butter and Lametia DOP extra virgin olive oil for 10 mins. 
 
Season with salt and pepper.
 
Wrap the lobster in the dough
 
Put it in the oven for 10 mins at 400 degree Fahrenheit
 
Remove it from the over and remove the dough from the lobster.
 
Heat some butter, a little Lametia DOP extra virgin olive oil and some thyme in a pan. Sear the beets and potatoes for 2 mins. 
 
Dress the dish.