The new campaign to promote Prosecco DOC in Canada has been launched in Alberta and Québec. Among the many activities organized: educational sessions for sommeliers and restaurateurs in Alberta, the participation of Prosecco DOC in one of the most popular summer festivals in Montreal (Festival Mural), the activation of a network of 100 restaurants that will promote Prosecco in the coming weeks in the two provinces. An estimated 500,000 potential consumers will be reached overall during the promotional period.
Canada is among the top top consumer countries of Prosecco DOC, with some provinces experiencing record sales growth in the double-digits. In Québec, for example, Prosecco DOC recorded a 15% increase in sales in the last year. The growing popularity of Prosecco DOC in Canada is undoubtedly also linked to the dynamism and protagonism of the Consorzio di tutela della Denominazione di Origine Controllata Prosecco.
The Consorzio represents 10,398 winegrowers and 364 sparkling wine producers for a total annual production of 638 million bottles and a turnover of 3.35 billion euros in 2022.
Prosecco DOC has a distinct territory, stretching between Veneto and Friuli-Venezia Giulia; rich in tradition with a favorable climate that gives Glera grapes a unique elegance, balance and contemporary flair.
MURAL FESTIVAL – Montréal
From June 8 to 18, 2023, Prosecco DOC is associated with Montreal's popular Mural Festival, which attracts 460K festival-goers along Montreal's iconic Saint-Laurent Boulevard. During this period, Prosecco DOC will be available in numerous bars for the duration of the 10-days event.
Prosecco DOC was also the official presenter of the inaugural cocktail of the Mural Festival, which was held on June 8, 2023, to which 2,500 guests were invited. For the occasion, samples of Prosecco DOC were served to guests and an artist was invited to create a large graffiti on-site, featuring Prosecco DOC, which became an original photobooth backdrop for participants to commemorate the event.
From June 8 to June 11, 2023, Prosecco DOC additionally had an activation booth along the Saint-Laurent Boulevard where it featured and served Prosecco DOC products. Two micro-events for influencers were animated by Guénaël Revel, also known as Mr. Bulles.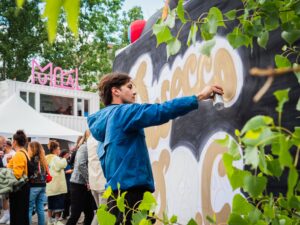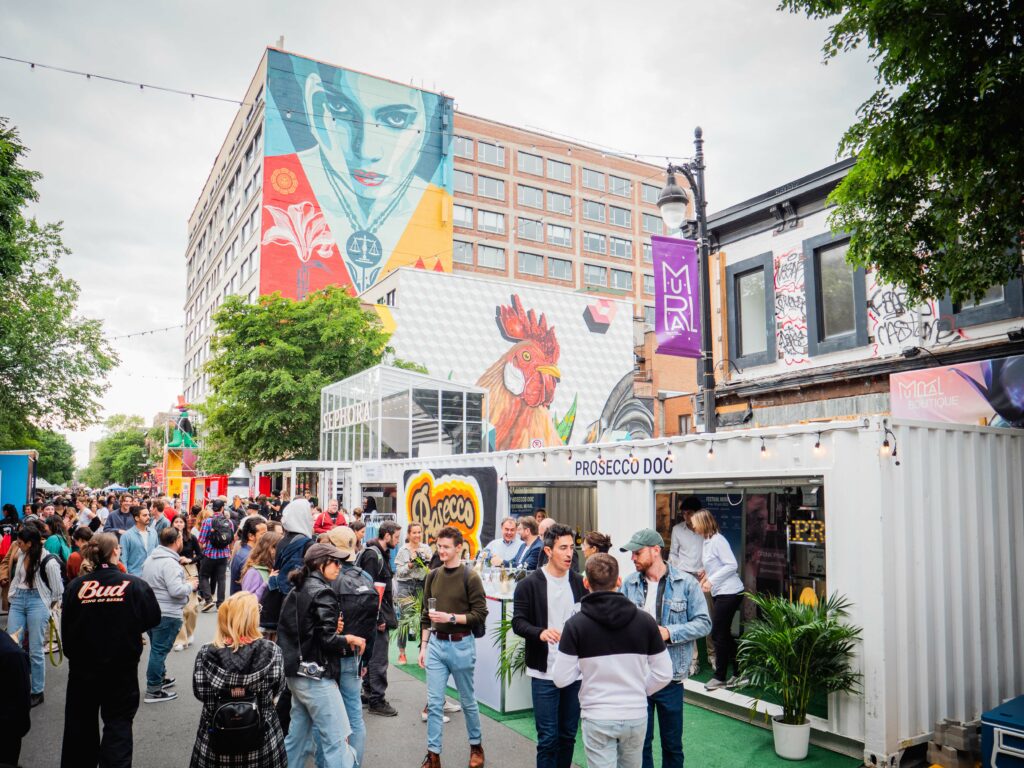 RESTO WEEKS – Québec / Montréal
The Prosecco DOC Resto Weeks have become not to be missed annual events on Quebec's restaurant calendar.  The summer edition is taking place from June 8 to 22, 2023 at 65 participating restaurants across the province.  Resto Weeks demonstrate the versatility of the product not only through a variety of cocktails prepared for the occasion by mixologists, but also through the exploration of new food/wine pairings.
In order to promote Resto Weeks, a launch party was held in one of the participating wine bars, Time Out Montreal, on June 7th, 2023. Products from the participating producers and a special cocktail using Spritz Les Îles were presented during the evening to a target audience of 120 millennials and young professionals.
ÉMISSION DE RADIO SHOW – Québec / Montréal
The Consorzio participated in the radio show hosted by Guénaël Revel, known as Mr. Bulles, on June 9, 2023, which was also rebroadcast on June 10 and 11, aimed at educating the audience on the characteristics of the product and increasing the reputation of the appellation among the Quebec public.  
Guénaël Revel stated : « le succès du Prosecco DOC tient du phénomène ! On pourrait penser qu'il s'agit d'une circonstance générationnelle parce que son essor a été fulgurant au cours des 20 dernières années, toutefois, il est consommé par tous les âges et toutes les cultures. Aucune autre appellation dans l'histoire du monde viticole n'a connu aussi rapidement un tel succès avec un tel volume, dans autant de pays aussi culinairement éloignés. Il est au 21ème siècle ce que le champagne a été au 20ème siècle : un témoin, un acteur et un vecteur des développements technologiques, des façons de consommer et des facilités de célébrer. »
RESTO WEEKS AND MASTERCLASS – Alberta
The 1st edition of Resto Weeks Alberta is currently taking place from June 8 to 22, 2023, at 30 participating restaurants in Calgary and Edmonton. A special Masterclass was held specifically for staff of the participating restaurants in order to educate them on Prosecco DOC, so that they can share their knowledge with their clients during the promotion.
To mark the launch of Resto Weeks in the province, approximately 60 influencers, media, and wine & gastronomy lovers were invited to a sparkling evening at one of the participating restaurants on June 6th, 2023.